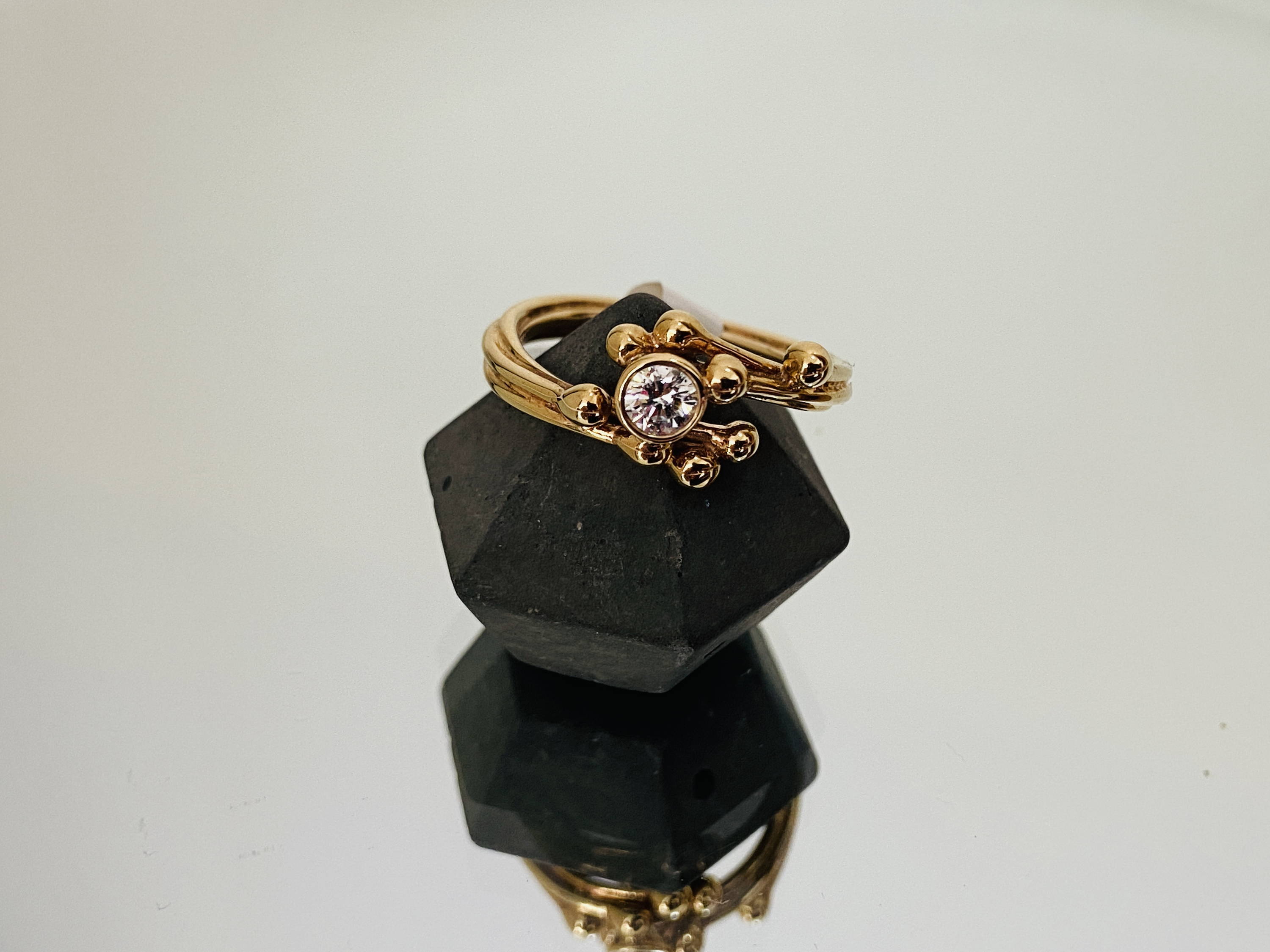 Gold and Diamond Flow Ring £1700 by Yen
Choosing an engagement ring can seem daunting, but we've a few tips for making things a little easier:
Pay attention to their day-to-day jewellery. Are their adornments simple and classic, or bold and impactful? Also do they have a preferred colour; gold or silver? Take cues from their favourite pieces to start your search.
Consult their friends. Their trusted confidante is likely to have great insight into what they would love - be sure they won't give away the surprise though.
Choose together. Whilst selecting something for them is very special, an exciting day together choosing a ring and bathing in newly-engaged joy! Why not book an afternoon tea at The Factory Kitchen and indulge in a glass of fizz or cocktail to celebrate?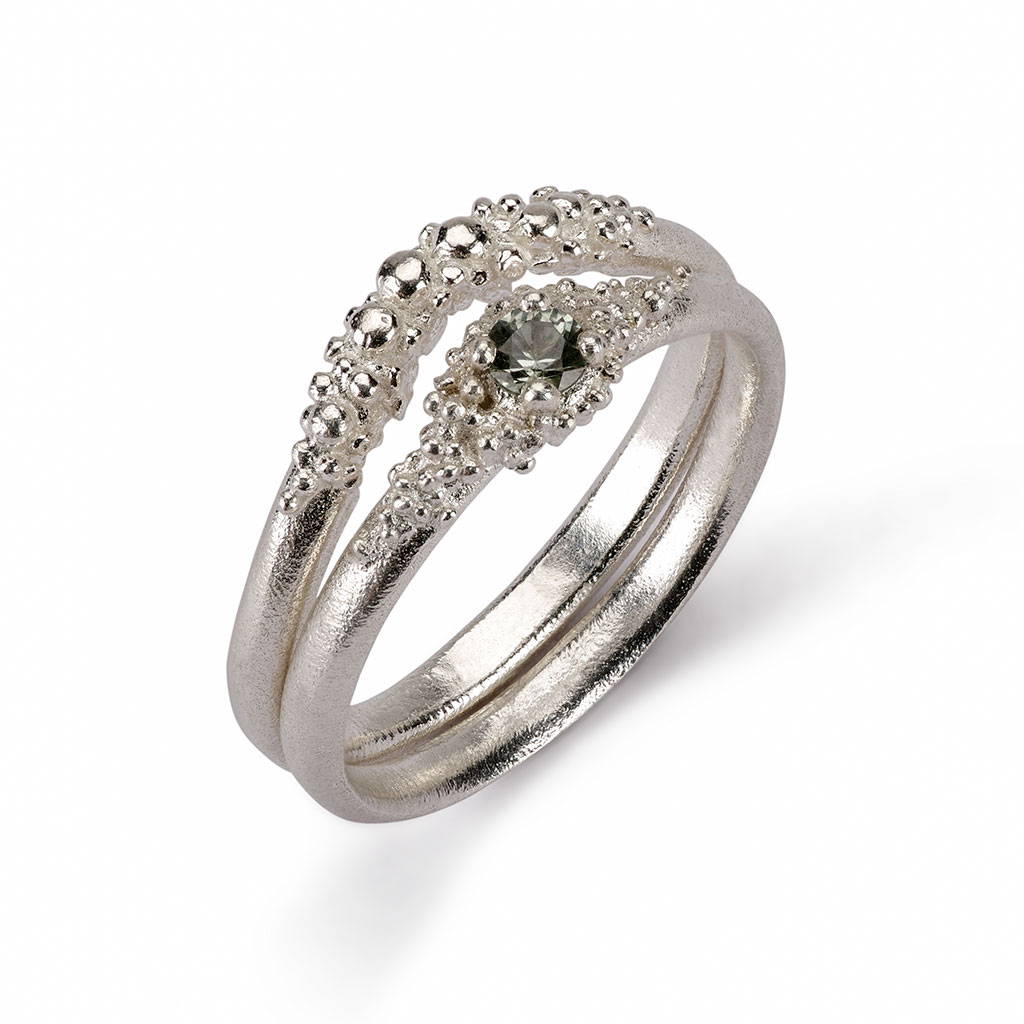 Ready to start your search?
Sapphire and silver ring £200 and silver ring £100 by Hannah Bedford
We've selected some beautiful pieces here, but our collections are best viewed in person. Shop for your engagement ring at The Biscuit Factory in person 7 days a week from 10am - 5pm. All jewellery over £100 is also eligible for the Own Art scheme so you can spread the cost of purchasing your engagement ring at The Biscuit Factory.
Don't forget to ask our friendly gallery team for assistance in viewing pieces up close, and checking sizes. If you can get your hands on another ring of theirs it can be helpful to bring that to ensure we're getting a good size match, although if you do happen to get it wrong we can always commission a perfectly-sized replacement!
Browse some of our engagement rings and bands at The Biscuit Factory below, and the rest of our collections here.
Speak to a gallery team member about choosing an engagement ring: art@thebiscuitfactory.com / 01912611103 (option 1)
---
Thinking of popping The Question? If you are planning to ask your Significant Other the ultimate question, you'll need a beautiful ring to make it official!
Our jewellery curator Maike Browning has selected some very special jewellery from our extensive collections to help celebrate your proposal, with unique and beautiful rings, all handcrafted by some of the UK's best contemporary jewellers
---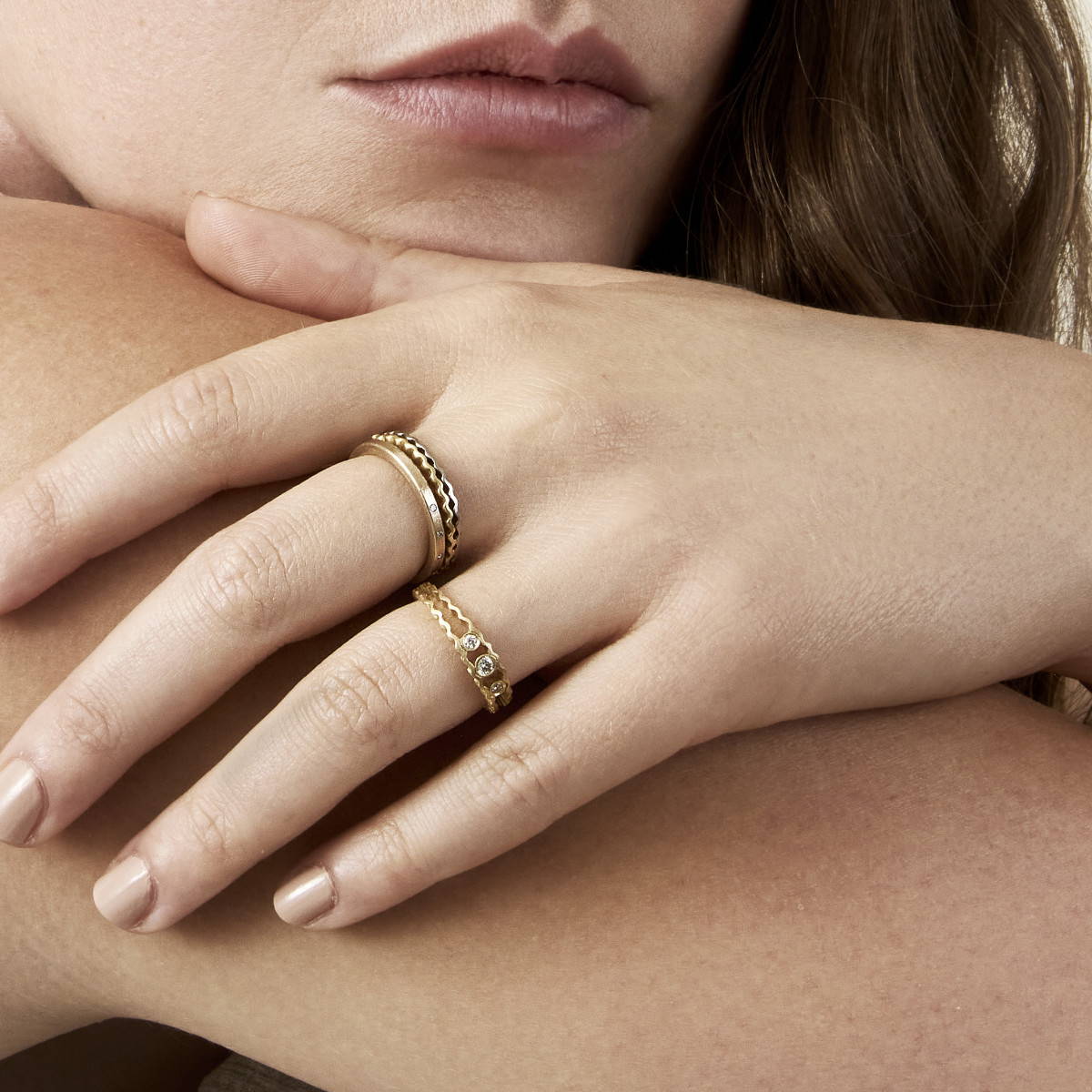 Strata Ring in diamond and yellow gold £1250 by Clara Breen (bottom ring)
We work with some of the UK's finest contemporary jewellery designers to curate extensive collections, so you can shop engagement rings at The Biscuit Factory in Newcastle being confident in the craftsmanship and originality of each piece.
With every ring crafted by hand in small studios, choosing an engagement ring at The Biscuit Factory means you're choosing something that no-one else can ever own exactly. Whilst some jewellers may produce the same design, the nature of handmade pieces is such that nothing can ever be replicated exactly. So you can choose a ring as unique as your significant other.
Commissioning an independent jeweller to make your engagement ring is a very special way to get the exact thing you're looking for. But if you'd like to commission an engagement ring for a Christmas proposal - be quick! Commissions can take several weeks, although are often quicker than a high street jeweller.
If you're after something that we don't currently have in stock at The Biscuit Factory, or need an alternate size, just let us know and we'll work on getting that for you!
---
Continue to explore Weddings at The Biscuit Factory...