12 Apr, 2018
·
·
bangle ,
bangles ,
bracelet ,
bracelets ,
earrings ,
gold ,
handmade ,
jewelery ,
jewellery ,
jodie metcalfe ,
john moore ,
lauren bell brown ,
necklace ,
necklaces ,
nettie birch ,
oddical ,
silver
5 Must See Jewellers This Spring
12 Apr, 2018
·
·
bangle ,
bangles ,
bracelet ,
bracelets ,
earrings ,
gold ,
handmade ,
jewelery ,
jewellery ,
jodie metcalfe ,
john moore ,
lauren bell brown ,
necklace ,
necklaces ,
nettie birch ,
oddical ,
silver

This Spring, we're spotlighting jewellery makers who take inspiration from the natural world at the time of the year when everything is starting to bloom and flourish. The Botanical Collection includes more than 350 pieces of jewellery and showcases a diverse range of styles, materials and techniques. All the pieces are for sales, with some of the jewellers also offering the option for a commission. Jewellery Curator Megan Collier says: "From Sue Gregor who uses real plants in her bright acrylic jewellery to Farrah Al-Dujaili's Oddical collection created with cutting edge 3D printing - the jewellers in this show experiment with their craft and break from traditional methods of jewellery making."
This season we're exploring the collections of 5 jewellers who each work very differently within the theme of botanicals and showcase some innovative and unusual processes.
***
Jodie Metcalfe is a jewellery designer and maker with an appreciation for the handcrafted. She creates handmade silver jewellery in her workshop on the border of Dorset and Hampshire, UK.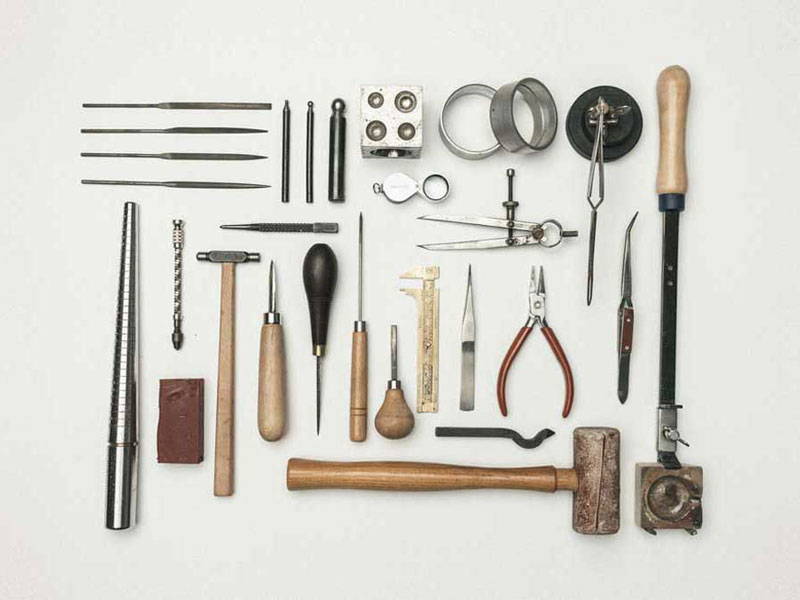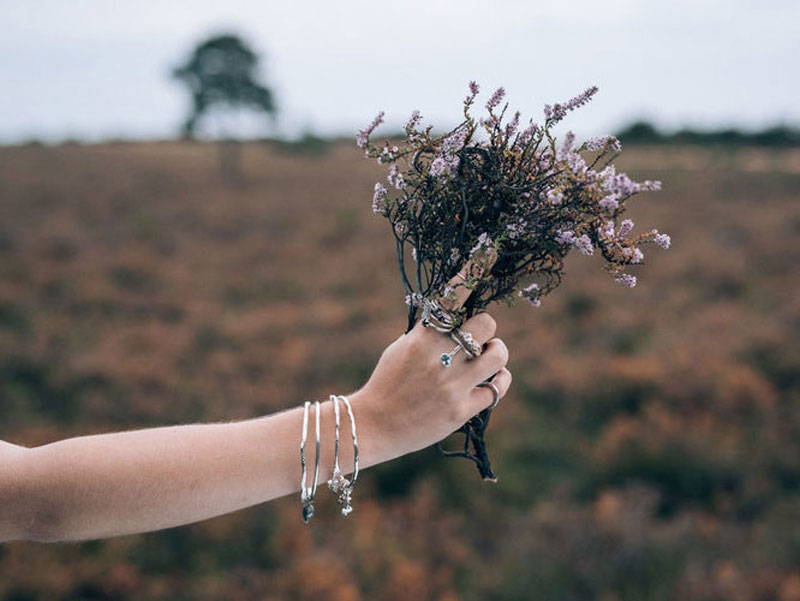 Jodie has always immersed herself in the natural world and pays particular attention to the endless textures and subtleties metals can hold. Whilst drawing on and working with materials that would otherwise decay, Jodie has developed an interest in techniques that emulate and directly translates the structure and form of the natural object. Her designs incorporate foraged finds cast into silver from their organic original, carefully collected from within the British Isles and further afield. Simplified botanical forms, reticulation and set stones also feature throughout her jewellery collections.
John Moore is an award-winning contemporary jewellery artist, living and working in Brighton, UK. With a life-long passion for making wearable objects and a multidisciplinary approach, he has created his own unique space in the world, blurring the lines between contemporary jewellery, art, design, craft and fashion. Recent projects include styling for L'Oreal's 2015 Autumn/Winter trend launch and exhibiting as part of the National Glass Centre's touring exhibition 'Jewellery: Wearable Glass'.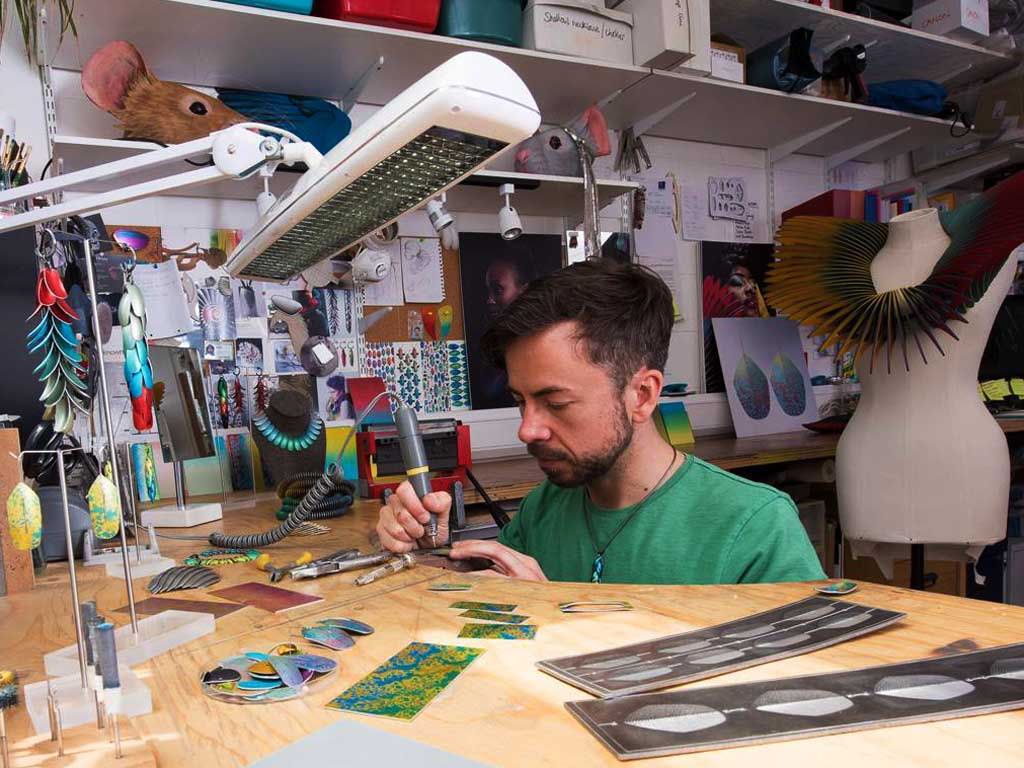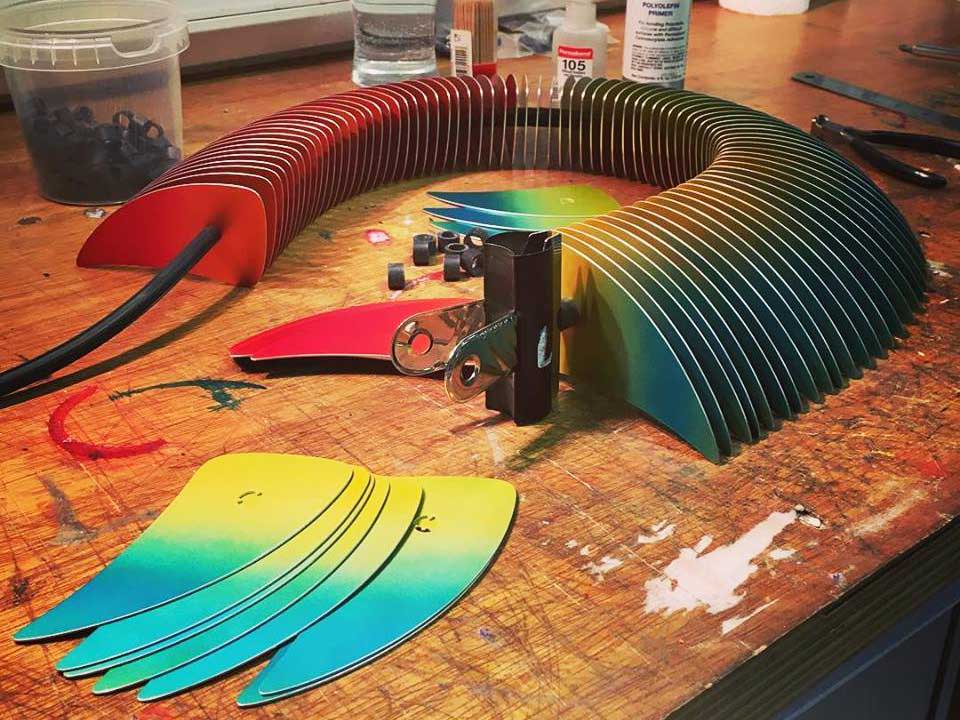 Inspired by natural architecture, his work is recognised for its imagination, design and craftsmanship. Materials, traditional or not, are carefully selected for their unique properties and combined to achieve his vision, including anodised aluminium, silver, gold, steel, wood, silicone, magnets and glass. Carefully balancing shape, colour and movement, he conjures his own hybrid specimens, organic yet man-made, that transcend the material and work in harmony with the body.  
Oddical is the creation of Farrah Al-Dujaili, a graduate of the prestigious School of Jewellery, Birmingham. Farrah completed her BA Jewellery and Silversmithing in 2009 and went on to complete her MA Jewellery, Silversmithing and Related Products in 2010. Since launching Oddical she has received industry recognition for her unique designs. Oddical was awarded Gold in the Fashion-Led Conceptual Jewellery section at the prestigious Goldsmiths' Craft & Design Council Awards 2017, was a finalist in the Professional Jeweller 'Young Designer of the Year' category, won 'Designer to Watch' at IJL 2017 in the Editors Choice Awards and won 'Kickstarter of the Year' at the NAJ Awards.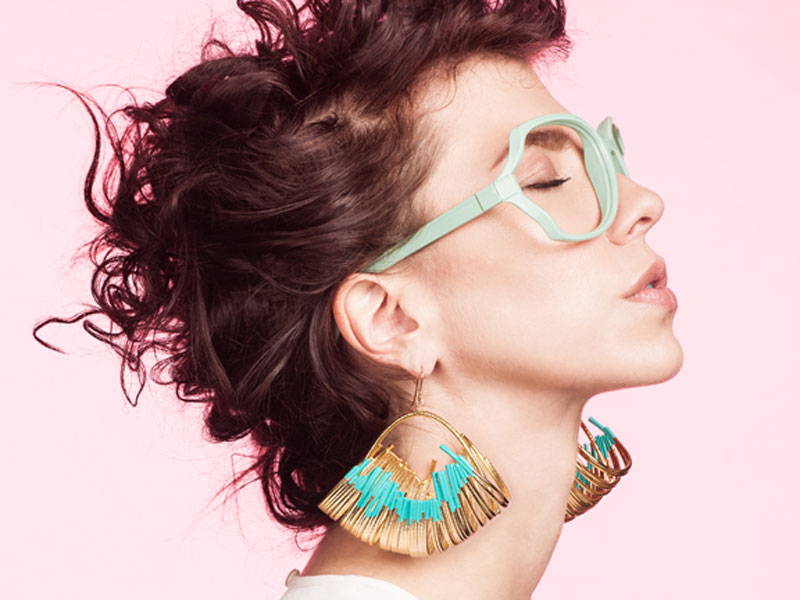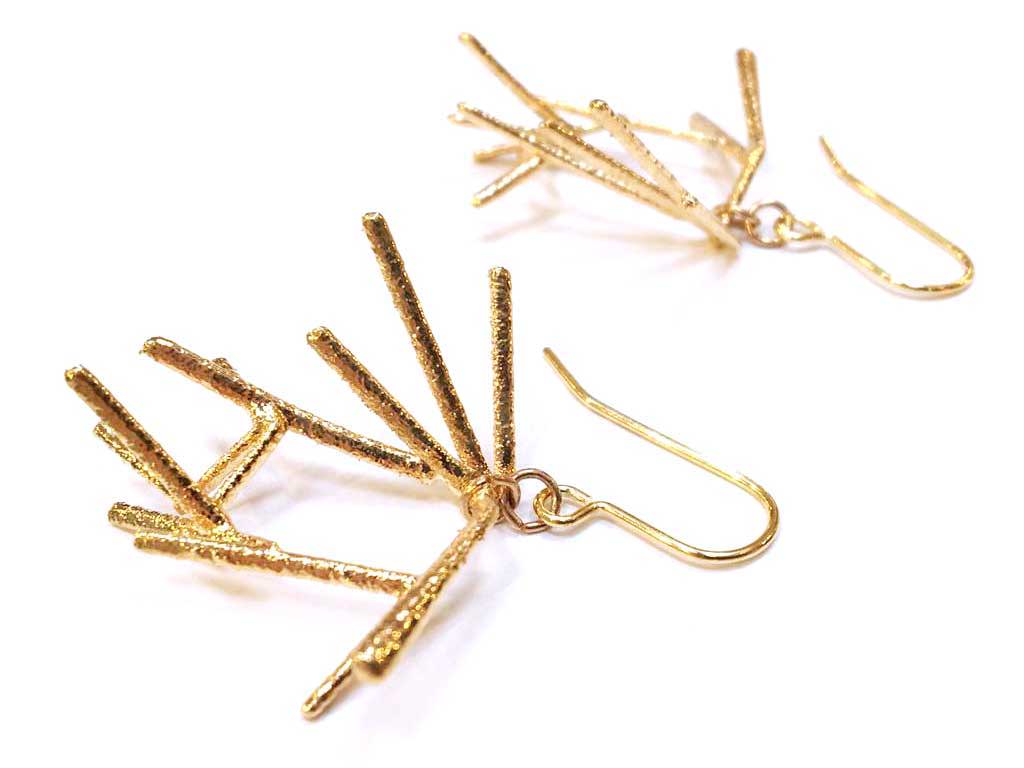 Farrah's debut collection has taken inspiration from plant and skeletal structures to create eye-catching statement jewellery. The lightweight designs create a feeling of playful luxury and can be worn alone or in attention grabbing multiples with special attention paid to statement earrings. Produced using the cutting edge technology of 3D printing each piece of quirky, lightweight jewellery is printed in nylon, gold plated in 22ct gold and then individually pieced together and hand painted in the UK. The unique mix of processes used alongside 3D printing give the pieces the appearance of being made in precious metals without the weight, creating striking jewellery that is easy to wear. Each piece has subtle differences in surface texture and hand painted details that enhance the quirky, rough luxe feel of the collection.
Nettie Birch is a jeweller who works from her studio in South East London. Nettie specialises in fold-formed jewellery using aluminium, copper and sterling silver. The technique folds sheet metal and compresses and stretches them by hammering. Once opened, beautiful flowing organic shapes are formed. She is also expanding her range of raised metalwork pieces.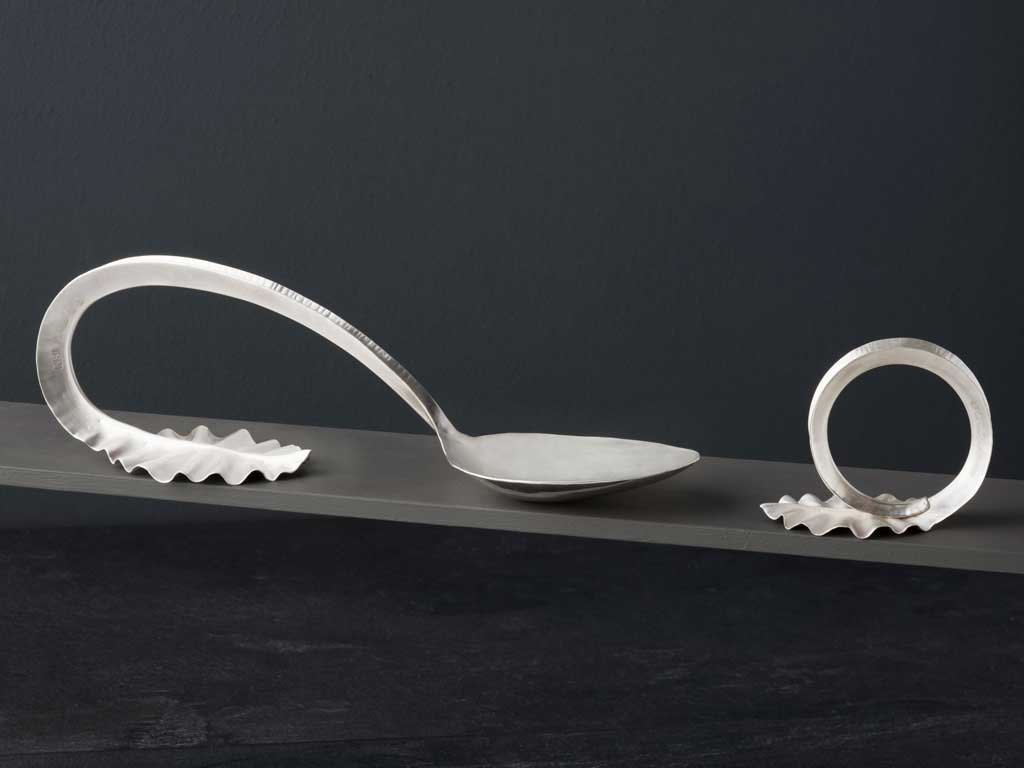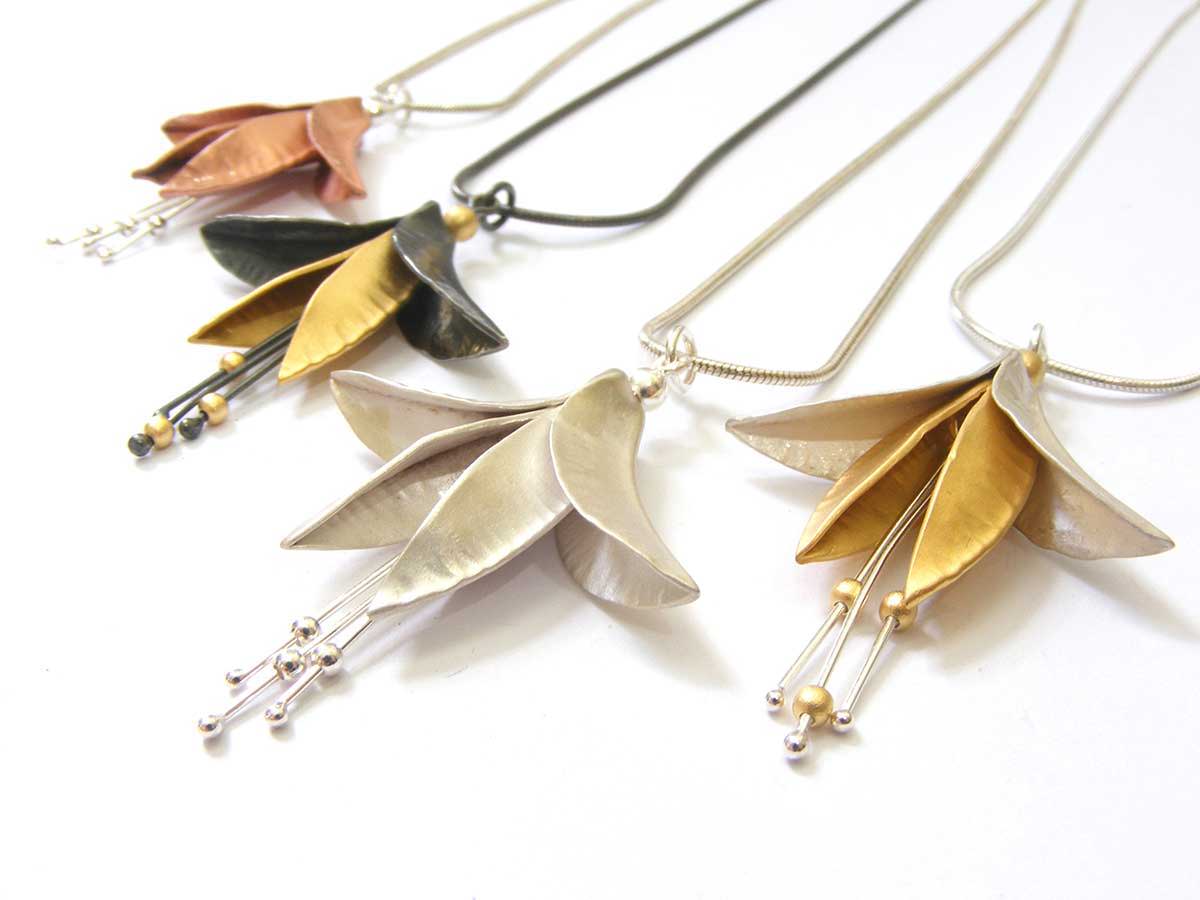 Nettie is a self-taught jeweller who, after redundancy in 2008 started her full time business. She discovered fold-forming in 2009 and, after a year perfecting the technique, changed the focus of her work to concentrate solely on the discipline. The joy of fold forming, for Nettie, is watching the metal move and allowing unexpected movements to define new directions. Often the resulting shapes need careful consideration as to how to make into wearable jewellery and engineering new connections is all part of the challenge.
Lauren Bell-Brown describes herself as a hopeless romantic, drawn to 18th century Baroque, Rococo and Romanticism. Her love of an aged aesthetic means she has a compulsion to combine the juxtaposing states of beauty and decay, finding beauty in imperfections. Lauren started collecting Victorian children's books some years ago, drawn to their floral, gilded, ornate but worn and well-thumbed covers and pages. One of the most treasured finds being a copy of Grimm's Fairy Tales illustrated by Arthur Rackham.
Fairies and fairytales had always been a big part of Lauren's childhood; the magic of tiny, scrolled letters she received from the tooth fairy in return for a tooth and the 'fairy tree' at her Grandparents' house where she spent hours as a young girl, creating intricately detailed fairy houses. Typically, Lauren had been brought up with a very romanticised, Disney-fied ideal of fairytales, but soon came to realise that these were retelling the stories of the Grimm Brothers' much darker, original tales. She preferred the latter.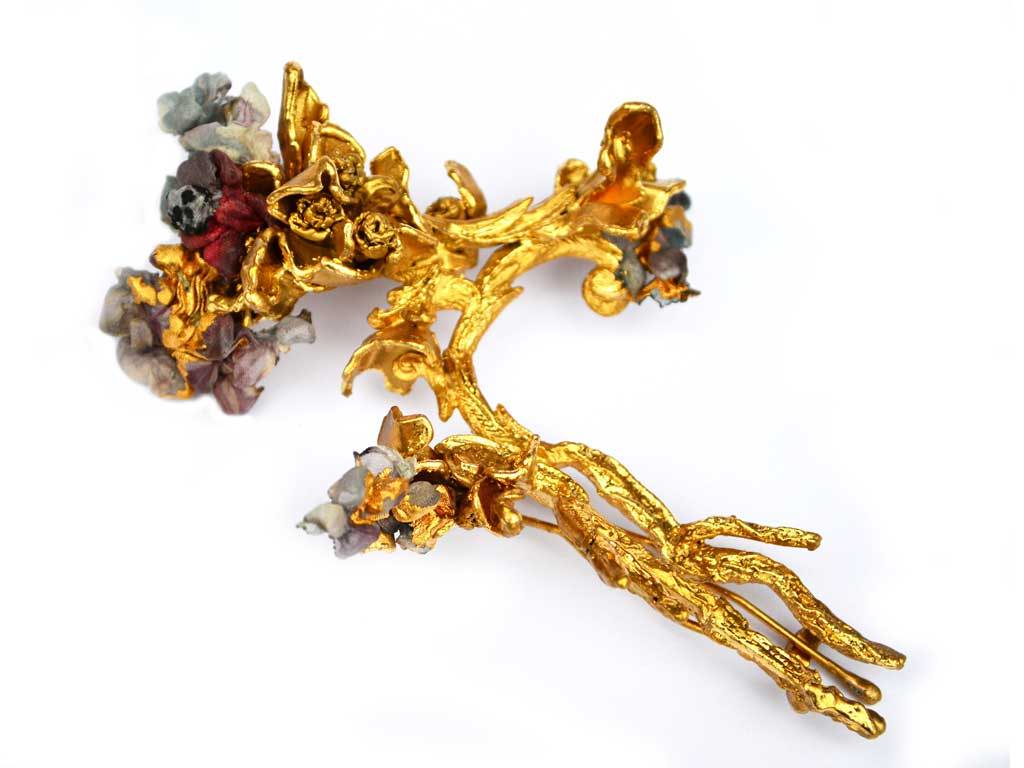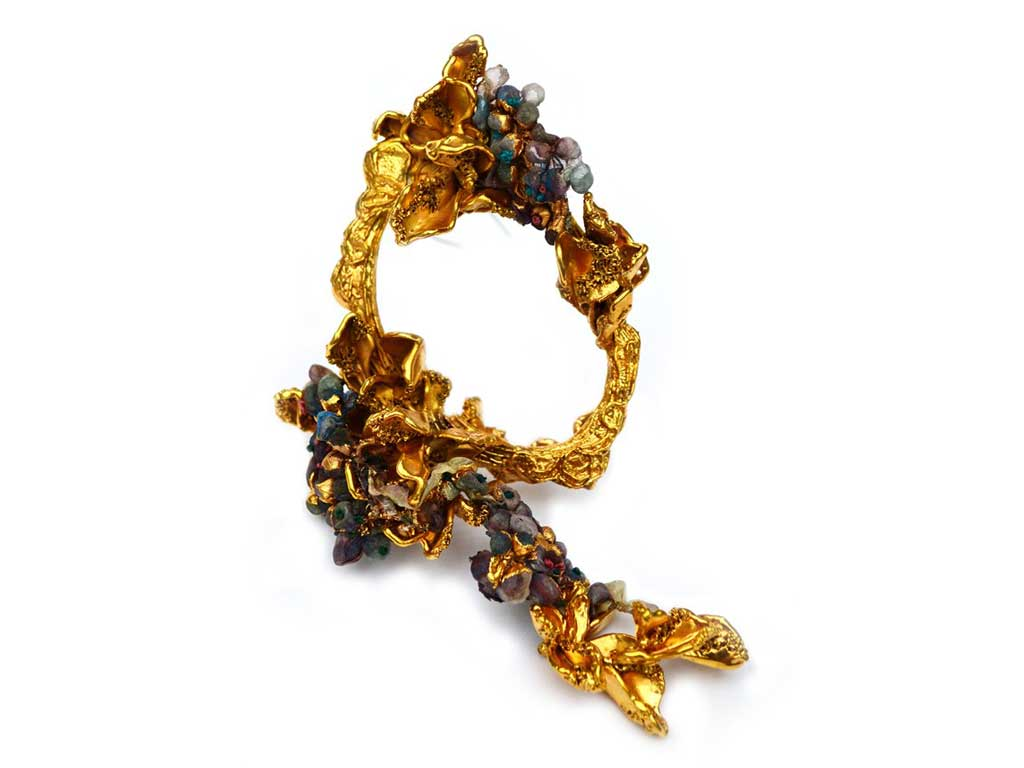 Building upon Lauren's understanding of traditional fairy-tale aesthetics, her jewellery portrays their classic beauty whilst incorporating the Grimm's darker narrative. Ornately detailed and meticulously hand crafted wax carvings and cuttlefish castings combined with needlepoint embellishment add drama to the fantasy of her work, offering a subversive twist to the concept of the familiar 'happily ever after'.
Lauren's love of books and dissecting the Grimm Brothers' and Hans Christian Andersen narrative, extracting hidden detail, is a real pleasure for her. Lauren wants the audience to explore her jewellery and make their own observations; the detail is there to be discovered and she hopes a subsequent understanding of her interpretation is revealed.