17 Apr, 2018
·
·
artist ,
behind the scenes ,
blog ,
botanical ,
botanical collection ,
in the studio ,
jeweller ,
jewellery ,
john moore ,
studio
In the Studio / John Moore
17 Apr, 2018
·
·
artist ,
behind the scenes ,
blog ,
botanical ,
botanical collection ,
in the studio ,
jeweller ,
jewellery ,
john moore ,
studio
This season, to celebrate the launch of our Botanical Collection, we're exploring the collections of jewellers who each work very differently within the theme of botanicals, showcasing some innovative and unusual processes.
John Moore is an award-winning contemporary jewellery artist, living and working in Brighton, UK. With a life-long passion for making wearable objects and a multidisciplinary approach, he has created his own unique space in the world, blurring the lines between contemporary jewellery, art, design, craft and fashion. Recent projects include styling for L'Oreal's 2015 Autumn/Winter trend launch and exhibiting as part of the National Glass Centre's touring exhibition 'Jewellery: Wearable Glass'.
Inspired by natural architecture, his work is recognised for its imagination, design and craftsmanship. Materials, traditional or not, are carefully selected for their unique properties and combined to achieve his vision, including anodised aluminium, silver, gold, steel, wood, silicone, magnets and glass. Carefully balancing shape, colour and movement, he conjures his own hybrid specimens, organic yet man-made, that transcend the material and work in harmony with the body. We spoke to John about the inspiration behind his designs, his making techniques and life in his Brighton studio.
Header photo credit: Ellen Alberti
***
Please tell us about yourself and your jewellery practice? How long have you been making jewellery for?
I began my professional practice when I left Manchester Metropolitan University in 2002. My work encompasses wearable objects from everyday jewellery to large, sculptural pieces, sometimes in collaboration with performance artists. I have always been fascinated at how an object placed on the body can be brought to life. Moving with the wearer, it becomes a part of them, an extension of their body, much like a mask or a puppet. When a person resonates with a piece of jewellery, the effects of putting it on can be hugely powerful and this remains the driving force in my work.
Did you study jewellery or are you self-taught ?
My degree was in 3D Design which introduced me to a variety of materials and processes until jewellery became my specialism in my final year. I chose to work predominantly with anodised aluminium, which is not a traditional material for jewellery making. My tutors could not teach me and there was no literature about it at the time so I learned through talking to other makers and through trial and error. After graduating I shared a studio with my mother, also a jeweller, where I learned the more traditional skills.
Tell us about your design process? Where do you gain inspiration? Do you work from drawings?
My inspiration comes from many different sources such as architecture, dance and music, but visually the overriding influence is nature, particularly feathers, wings, scales and other overlapping patterns. What comes out is rarely the direct result of a single influence but a manifestation of everything I've ever resonated with. I am constantly observing the world around me. I keep sketch books to record ideas. I make models out of paper. I play with materials to discover what they can do and how I can exploit their properties. I allow for mistakes to happen which can then be explored and perhaps recreated with intention.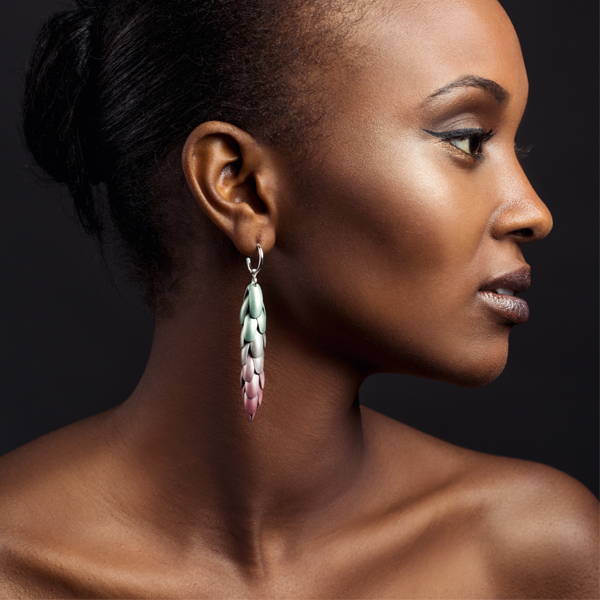 John's 'Elytra' earrings are extremely lightweight and reversible, allowing you to be bold with the size of your earrings.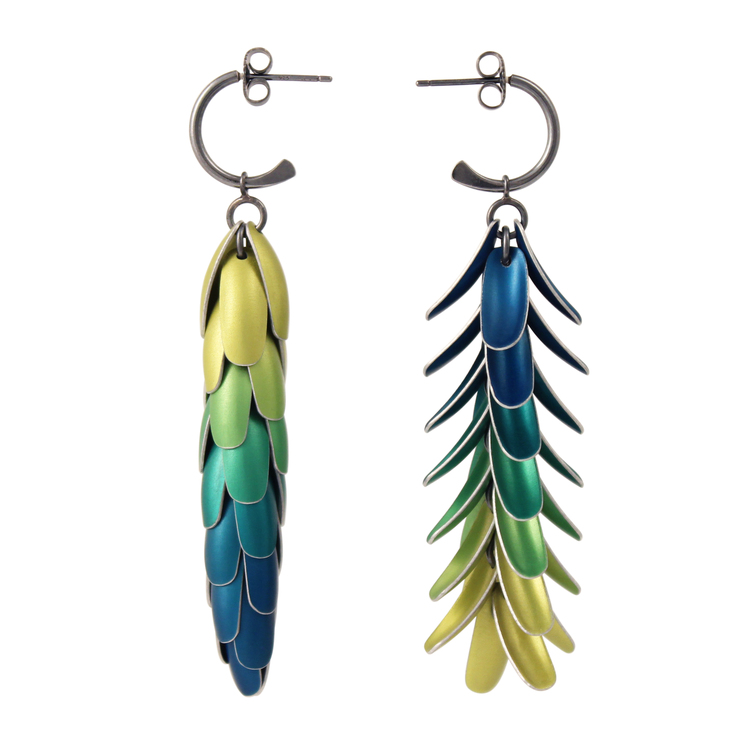 John's 'Elytra' pieces are created with plain anodised aluminium sheets that are repeatedly dipped into baths of dye to create seamless, graduated colour, before the pieces are individually cut out, finished and formed.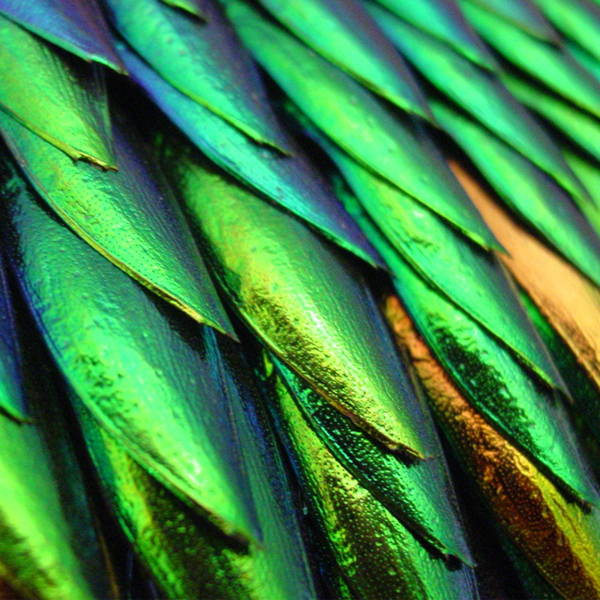 The name Elytra comes from the forewings of beetles. The overlapping structure is reminiscent of the repeating patterns of fish, feathers and plants.
Tell us about your making process?
I work with pre-anodised sheet, produced for the signage industry. It has been submerged in a sulphuric acid solution with an electric current passed through it, which forces a layer of transparent oxide to grow from the surface. The metal arrives, a pale shade of grey, until I apply colour dyes that absorb into the porous, transparent oxide. Spirit based inks can be used in combination with water based dyes to create a variety of effects. I colour the metal in pieces that are roughly A5 size, seal the colour in, then proceed to cut out and form the metal into finished pieces of jewellery. Pieces in the Flight collection are embossed with a lined texture, like a feather, while ear wires and brooch pins are individually built into each piece.
Where do you currently make your pieces? Tell us about your studio space?
I rent a studio in New England House, which is a vibrant, creative hub in the centre of Brighton. I love being surrounded by other creatives who are all on hand to help each other, sharing knowledge and skills. The connections I have made here have had a huge, positive impact on the work I am now producing. An engineer has made bespoke tools for me, while a cabinet maker has made benches for the studio in return for jewellery. In 2015 I made a music video in collaboration with a filmmaker, also working in the building. It's great to feel supported and there really is a wealth of talent.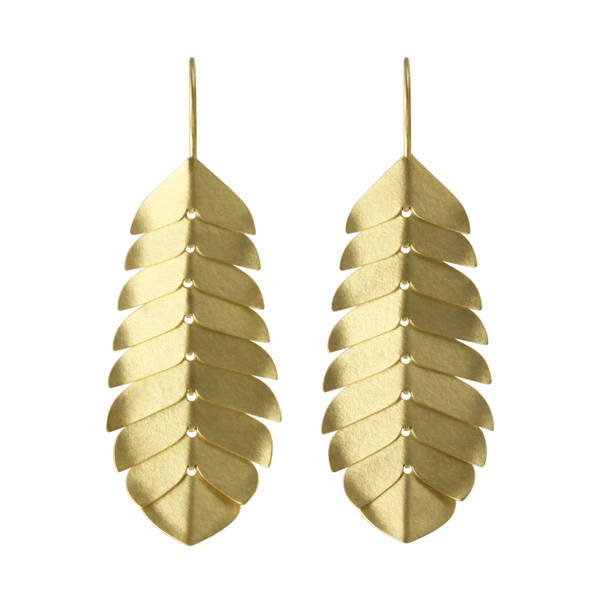 The namesake of the exotic plant prized for its vibrant, extravagant flowers, the Bromeliad range continues John's exploration of the intricate, repeating patterns and textures of nature.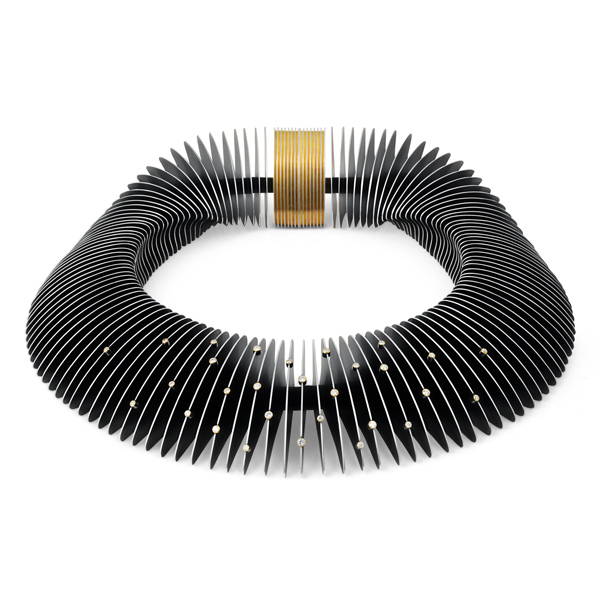 The Silver and Diamond Verto Necklace, completed in 2015, has won numerous awards including the Goldsmiths' company award, "given at the discretion of the Council for exceptional and outstanding design in 2D and 3D".
Please tell us about a project you are particularly proud of?
I had been working on a series of large necklaces entitled Verto, that have a unique quality of movement. While photographs are a great way to record my work, I was really keen to document the movement of Verto. In 2015 I met Jenna Lee, freelance choreographer and ex soloist for the English National Ballet and we decided to collaborate on making a video of a dancer wearing my jewellery. It was a labour of love but definitely one of my best achievements and I look forward to exploring movement and dance in more depth, perhaps even live as well as recorded.
What jewellers do you consider ones to watch in 2018?
I confess that I am really bad at looking up to see what others are doing but there are a few makers who's work I really resonate with such as Miriam Hiller, Liv Blavarp, Emmeline Hastings and Emily Kidson.
What projects are coming up for you this year? What are you looking forward to?
I am currently working on a large commission for one of my collectors. It will be a variation on the Verto necklace but made in silver with gold and diamonds, quite a departure from the playful colour of the lightweight aluminium, but exciting nonetheless. Meanwhile I am also designing a new wearable collection that I hope to launch in the summer. It will be typically bold and colourful and I look forward to showing it at SIERAAD Art Fair, Amsterdam in November.
***
John Moore's current collection features in our Botanical Collection this Spring. John can also work to commission to create something truly bespoke. Got an idea you would like to discuss? Contact our gallery team on art@thebiscuitfactory.com
Shop the collection highlights
THE BISCUIT FACTORY