In The Studio / Catherine Rayner
Award-winning illustrator and children's author, Catherine Rayner, studied at Edinburgh College of Art where she created what would go on to be her debut picture book Augustus and his Smile.
Since then, Catherine has flourished and is now established as one of the UK's leading creators of children's picture books. Catherine also exhibits her artwork worldwide and her large silk screen prints and paintings of animals can be enjoyed on the wall instead of solely on the page.
With her first picture book Augustus and his Smile (2006), Catherine won the Best New Illustrator Award at the Booktrust Early Years Awards. She was also shortlisted for the V&A Illustration Awards in that same year. Since then she has published well over dozen picture books for children in her own right, as well as many titles in collaboration with authors, including Michael Morpurgo, Michael Bond and Vivian French. Amongst numerous other prizes and nominations Catherine was the recipient of the prestigious Kate Greenaway Medal in 2009 for her book Harris Finds His Feet.
This autumn Catherine launches her largest collection to date at The Biscuit Factory. We went behind the scenes in her Edinburgh studio to find out more about the inspiration behind the featured works and to learn more about her artistic process.
Tell us about yourself and your practice?
At the age of seventeen I applied to Edinburgh College of Art and was accepted, I was delighted! I attended a foundation programme at Leeds College of Art in my first year and then moved to Edinburgh to specialise in Illustration.
Since then I've written and/or illustrated over twenty books. These have been published in thirty nine countries. I use a combination of techniques but I am frequently drawn back to the pairing of loose hand-drawn characters with silk screen printed backgrounds; a splodge of ink marks a moose's nose, a subtle blend of colour depicts an arctic landscape while a found leaf shape repeats to form graphic foliage.
Catherine Rayner, Edinburgh Printmakers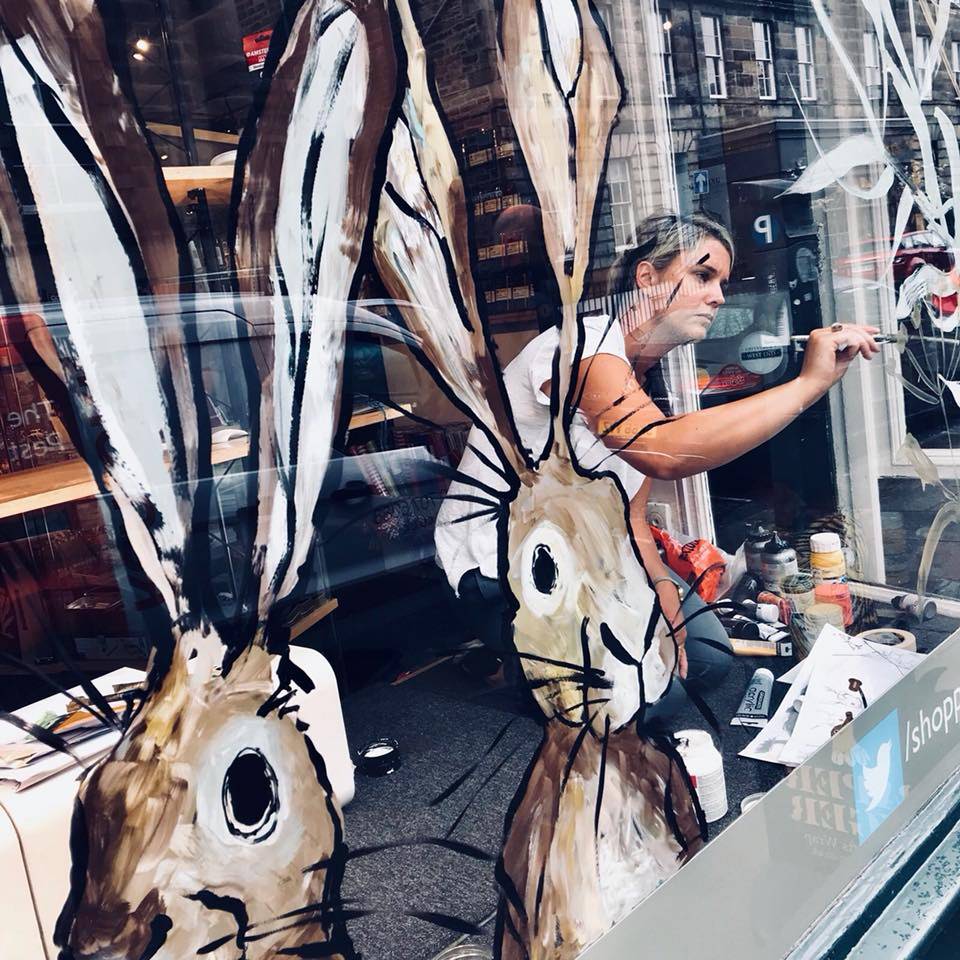 Catherine Rayner, Paper Tiger Edinburgh
"My silk screen works tend to develop expressively and organically often including up to thirty layers of colour and I love to focus on the natural habitat and beauty of creatures many of us take for granted."
When did you decide to pursue illustration?
I've always found drawing therapeutic. I was the child who secretly loved it when it rained as it meant you could stay indoors and draw. I used to draw our pets, we had a sausage dog called Wilfred and he featured in most of my pictures. The first book I ever wrote, illustrated and made was about him being naughty. My mum still has it. I was about four. I think I knew then I wanted to be an author and illustrator. But, like most dreams, you don't expect them to come true...
Tell us about your time at Edinburgh College of Art. How did you practice develop during this time?
Probably the most significant way my practice developed at Art School was my discovery of screen printing towards the end of my third year. I fell in love with the juxtaposition of blocks of solid colour used with watercolours and scratchy ink marks – a technique which I still enjoy today!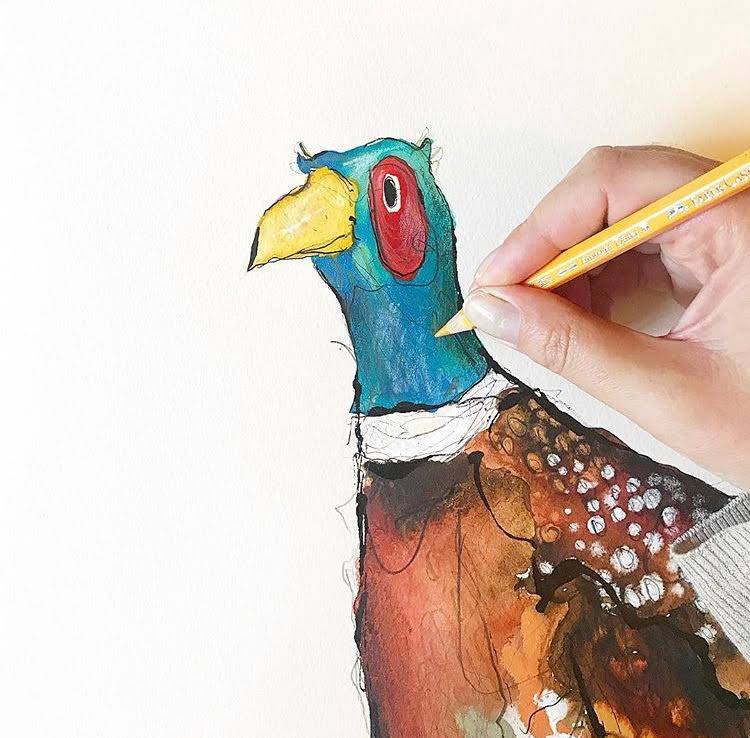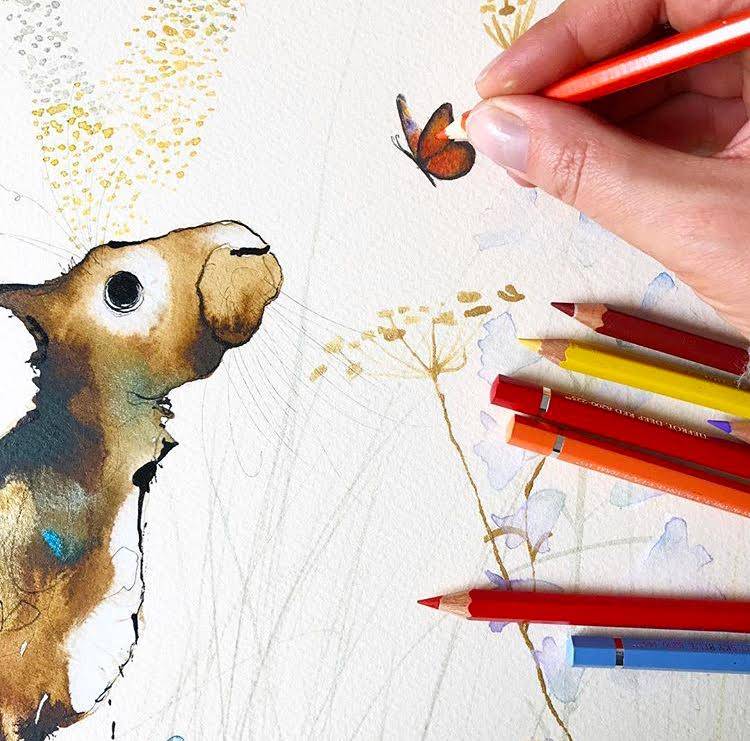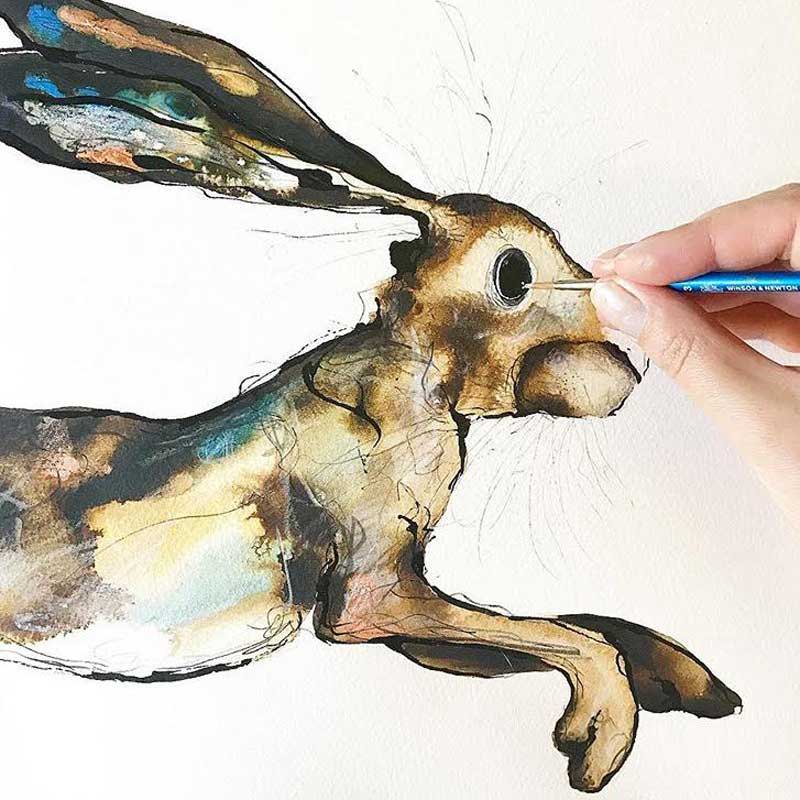 Tell us the story behind your first published work?
In my final year I spent a great deal of time at Edinburgh Zoo and found myself drawing the tigers all the time. They always looked a bit forlorn (I'd imagine this was mainly due to the Scottish weather!). It was during this year that I came up with the story Augustus and his Smile. I created a handmade book for my degree show with a full cover and 30 double spread illustrations. It was spotted by a publisher at a graduate design show in London, and the book was published the following year. Augustus and his Smile marked its tenth anniversary last year and a special GOLD edition was published to celebrate its special birthday!
Tell us about your studio space. Where are you currently based?
I'm lucky enough that I work from my studio at my home in Edinburgh, which really helps me to balance work with a very busy family life.
There are seven of us in our house; me, my husband, our two young sons, Ena the cat and Richard and Louise the fish so it can be noisy and hectic at times but once I'm back from the school/nursery run I make a cup of tea and settle down at my desk. I find I work better if I start the day doing something creative and my desk is a mish-mash of pots of ink, pens, watercolour, pencils and colouring pencils - I use whatever feels right for each individual character. I do my screen-printing at Edinburgh Printmakers.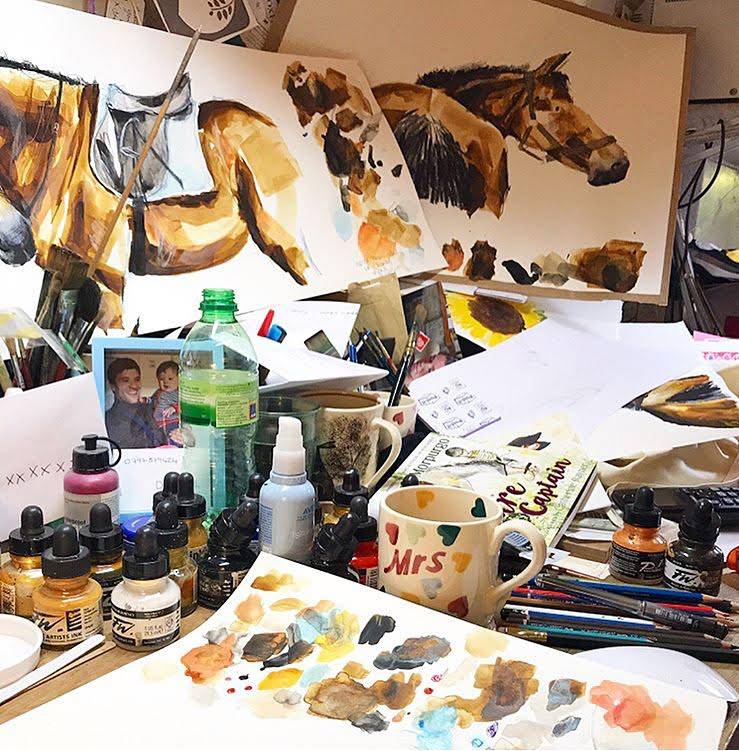 Please tell us about your working process and your technique. Are sketchbooks an important part of your process?
I find that sketchbooks provide me with a clear visual record of how work has progressed. This can be really useful when I'm stuck in a rut, as I can look back through previous creative journeys and remind myself of the problems encountered before and, more importantly, how to overcome them. This encourages me to keep going on bad days and is a very precious resource.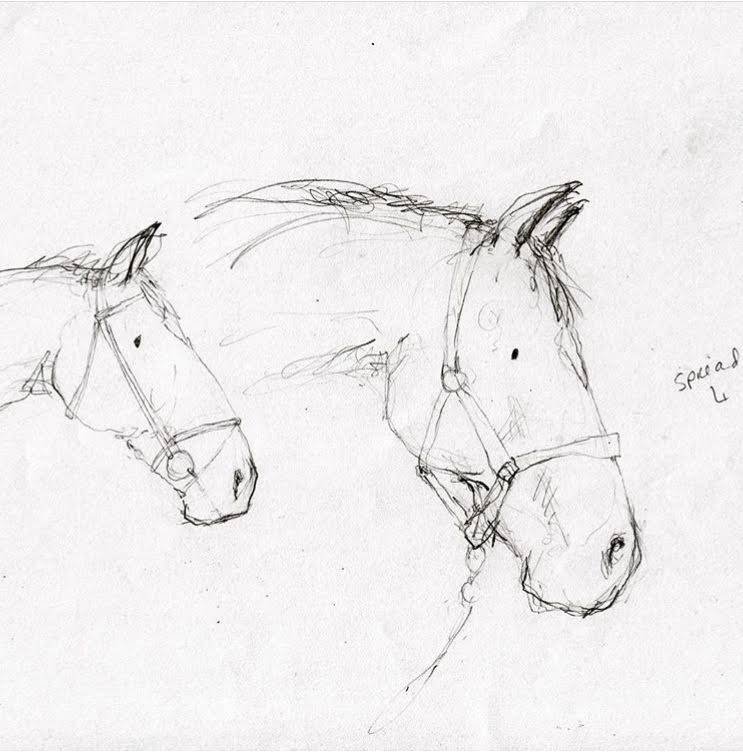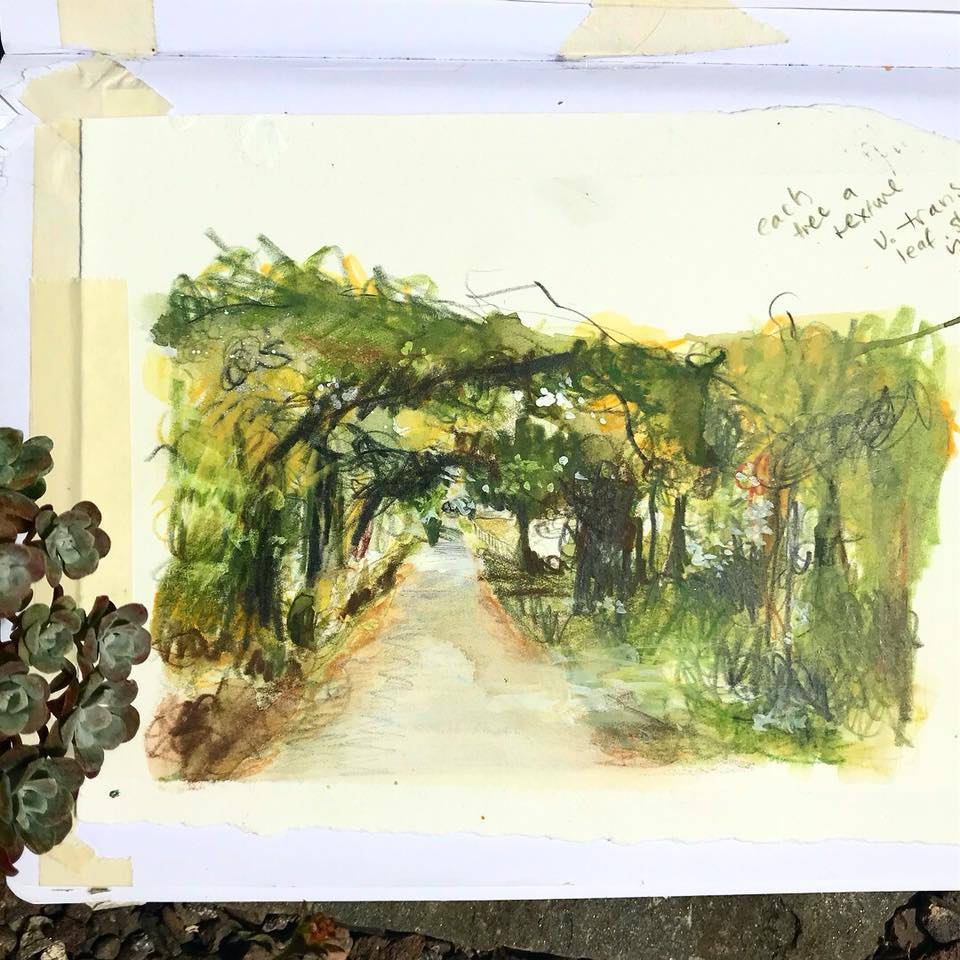 "Try not to get too hung up on how you think something should look and instead just enjoy the process. This helps to keep drawings lively too!"
Which illustrators inspire you?
That's a difficult question to answer as so many illustrators have inspired me at different stages of my career. If I had to pick three illustrators who I most admire and continue to be inspired by everyday then I would choose Quentin Blake for the loose, lovely lines in his illustrations, Brain Wildsmith for his brilliant use of texture and John Burningham for his use of many different medias in a way which was well ahead of its time.
What advice would you give to illustrators trying to make it in the industry?
Keep drawing! I can be doodling a creature for months, sometimes years, before a story emerges. My words are inspired by something in the way the animal looks, or an expression he or she might be making. It's a very organic process. I would advise others to try to work in the same way. Just keep drawing and inspiration will strike at some point. Try not to get too hung up on how you think something should look and instead just enjoy the process. This helps to keep drawings lively too!
I think it's really important to know what's happening in world of children's books. I read heaps of children's books and my studio shelves are full of them. I try to keep up to date with the latest children's books published and what are the favourites – old and new. Our children, now two and seven years old help keep me right with this! If you are looking to get published then it's worth keeping a note of who publishes the books you really like, as they might be the right fit of publisher for you. Another good starting place is the 'Writers' and Artists' Yearbook' which is a really useful source of information.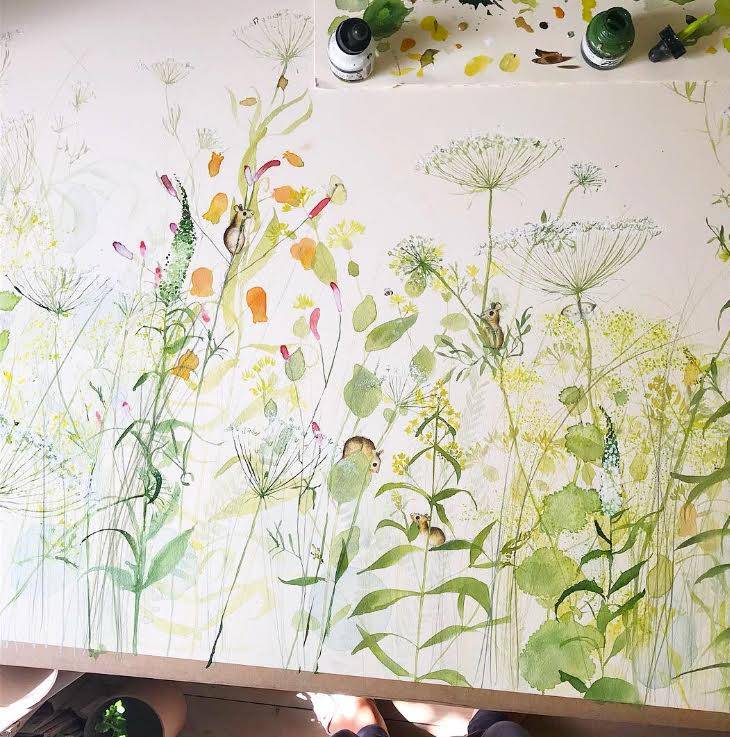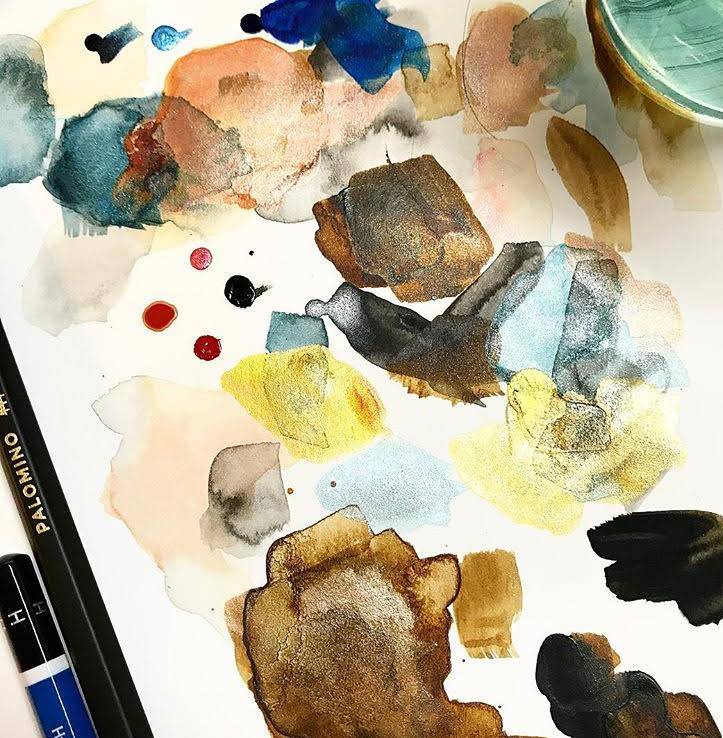 What is your favourite piece in your new collection? Is there a story behind it?
That's a tricky question and I think it would be impossible for me to pick a favourite! However, what I am really excited about in my new collection is the pieces that include flowers and foliage.
My more recent passion for drawing and painting flowers came about as I was (finally!) lucky enough to have a garden of my own. If I can escape outside for a cup of tea I'm there, observing the plants and trees. The shapes, textures and colours are an endless source of inspiration. From flowers in the summer, to bare branches in the winter - I'm drawn to my ever-changing garden in a way I can't quite explain. It's a privilege to be able to paint these amazing natural creations, and share them with other people, especially as many have been inspired by my own garden in Edinburgh!
Tickets are now on sale for 'An Evening with Catherine Rayner' on Thursday 27 September. In celebration of her largest exhibition of work to date, join Catherine as she chats about her career & opens up her sketchbooks to share insights into her practice.

When: 6 - 8pm. Please arrive for 6pm, talk will start around 6.15pm
Where: The Biscuit Factory Gallery
In celebration of her largest exhibition of work to date, join multiple award winning author and illustrator Catherine Rayner as she chats about her career and opens up her sketchbooks to share insights into her working practices and the inspiration behind her work.
There'll be opportunities to chat one on one with Catherine, ask questions, to view and buy from the exhibition and purchase signed copies of her books.
All ticket holders will receive a drink and canapes on arrival.
Why not make a night of it an dine in our restaurant artisan afterwards? Try our a la carte, Fish Friday or Prix Fixe (2 courses – £15.95 / 3 courses – £18.95) menus! Book your table here >
---
Further Information
All participants will receive an emailed booking confirmation which will act as your ticket. A reminder email will be sent close to the event.
Please note: This event is suitable for ages 16+.